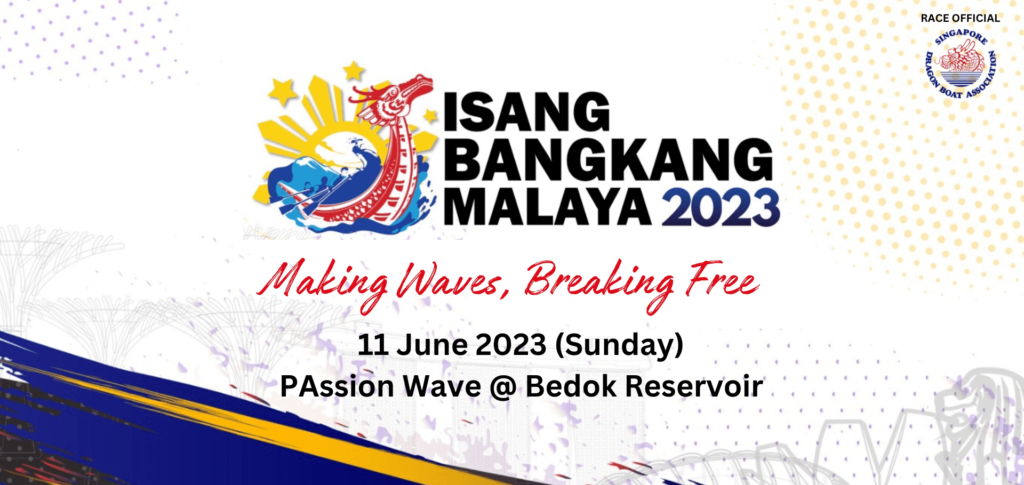 Filipino Dragons (Singapore) 'Isang Bangkang Malaya'
Welcome to Isang Bangkang Malaya ("IBM"), the flagship event of the Filipino Dragons (Singapore) that commemorates the Philippines' declaration of independence through the exciting sport of dragon boating.
IBM's legacy is to bring together Filipinos of all backgrounds and paddling experiences to the excitement of dragon boat racing. We aim to promote a culture of camaraderie, inclusivity, and solidarity.
Over the years, IBM has become a highly anticipated event attended by hundreds, including ex-pats and locals in Singapore. It has become a platform for showcasing the Filipino spirit and culture while promoting the sport of dragon boating. It is FDS's pride that this IBM tradition has made a positive impact and we look forward to sharing our passion for the sport and culture with everyone.
---
IBM 2023. Making Waves, Breaking Free
We are thrilled to extend our invitation to the 10th year of Isang Bangkang Malaya in 2023! This year's theme, "Making Waves, Breaking Free," stands for our mission to change the game and break free from the norm. The event will feature an array of exciting race categories, including  "Fiesta Cup", a fun race for the Filipino community. Meanwhile the "Captain's Cup" and "Barak Cup" cater to experienced and competitive paddlers.
This year, we are pleased to announce our partnership with SBDA to ensure a safe, fair, and an unforgettable event experience for all participants and spectators.
Join us and register via the categories of your choice below! The deadline for submission of entries is on April 30, 2023. Race fee includes IBM souvenir shirt and a chance to win exciting prizes!
To learn more about IBM Rules and Regulations, please click here. FILCOMM FIESTA CUP
100M – DB22 OPEN
Open to all members of Filipino Communities
Race Fee: S$50 per slot FDS CAPTAIN'S CUP
100M – DB22 MIXED
Open to all SDBA Affiliates/Members
Race Fee: S$50 per slot SENIORS LEAGUE BARAK CUP
100M – DB12 OPEN
Open to all dragon boat paddlers 40* and above (*age on year, excludes steersperson)
Race Fee: S$50 per slot
---
Our Past IBM Events